AMT

ACTION for MARKET TOWNS

The winning projects from each region go forward to be considered for Action for Market Towns' prestigious National Award. National winners will be announced by historian and television presenter Dr David Starkey in October at a ceremony in Kendal.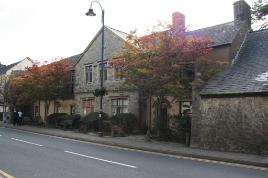 Awards 2012 Wales Environment and Culture Category Winner Old Hall
"Excellent value achieved by a local group. Shows the power of an engaged community that want to achieve something."
"Community action can achieve major projects more economically and more quickly than statutory authorities, result in great satisfaction for volunteers, as well as building the foundations of a distinctive community awareness."
The grounds of the Old Hall in Cowbridge, in the Vale of Glamorgan, had been neglected for decades by a unitary authority which couldn't afford to maintain the impressive historic structures or to improve the garden.
But Cowbridge Charter Trust (CCT) have used the efforts of volunteer action to transform the grounds into a beautiful community garden rich in biodiversity, as welcoming to wildlife as to human visitors.
CCT's initial project was the restoration of the (Grade 2 listed) Town Walls which were in a ruinous state and overwhelmed by vegetation. The Vale Council commissioned a survey which estimated a repair cost of £406k; CCT did its own professional study and applied to the Council for a grant of £60k to carry out the work. This was achieved in 2011 to the satisfaction of CADW and within budget. The initial stages involved offenders from the local prison who were funded to do a masonry course.
On the strength of this, CCT decided to restore the remains of Old Hall itself and the acre of garden behind it. Old Hall Gardens used to be a thoroughfare to the health centre, the library or the community college rather than a lovely space to be enjoyed in its own right. CCT in partnership with the Vale Council successfully applied for Creative Rural Communities funding and undertook a considerable renovation and restoration process.
The Georgian facade has been renovated and painted; an ugly concrete terrace has been replaced and extended using local recycled paving stones as a space for public events; sensitive lighting has been installed; many wildlife-friendly features have been added and a process of dense planting has begun in order to restore and enhance the habitat and food sources lost when the walls were stripped and repaired.
Now people of all ages use the benches to enjoy the natural world or just to eat their lunches; wedding pictures are being taken there; children love to look at the fish and newts in the pond and a pair of mallard have recently taken up residence.
The new terrace will host a performance by CADS (Cowbridge Amateur Dramatic Society) this coming summer and a community celebration of the Jubilee will be centred on the Garden on June 5th.
In local terms this was the biggest project ever undertaken by volunteers. Because of the success of the project CCT were granted a 10 year Land Management Agreement to take over maintenance of Old Hall Grounds by the Council. CCT is composed entirely of volunteers and the project has been devised and carried out by them, either literally (as in gardening) or by employing local crafts people – and by involving and working with other local community organisations. And CCT won't be stopping here: their next project is the rebuilding of the Old Hall itself!